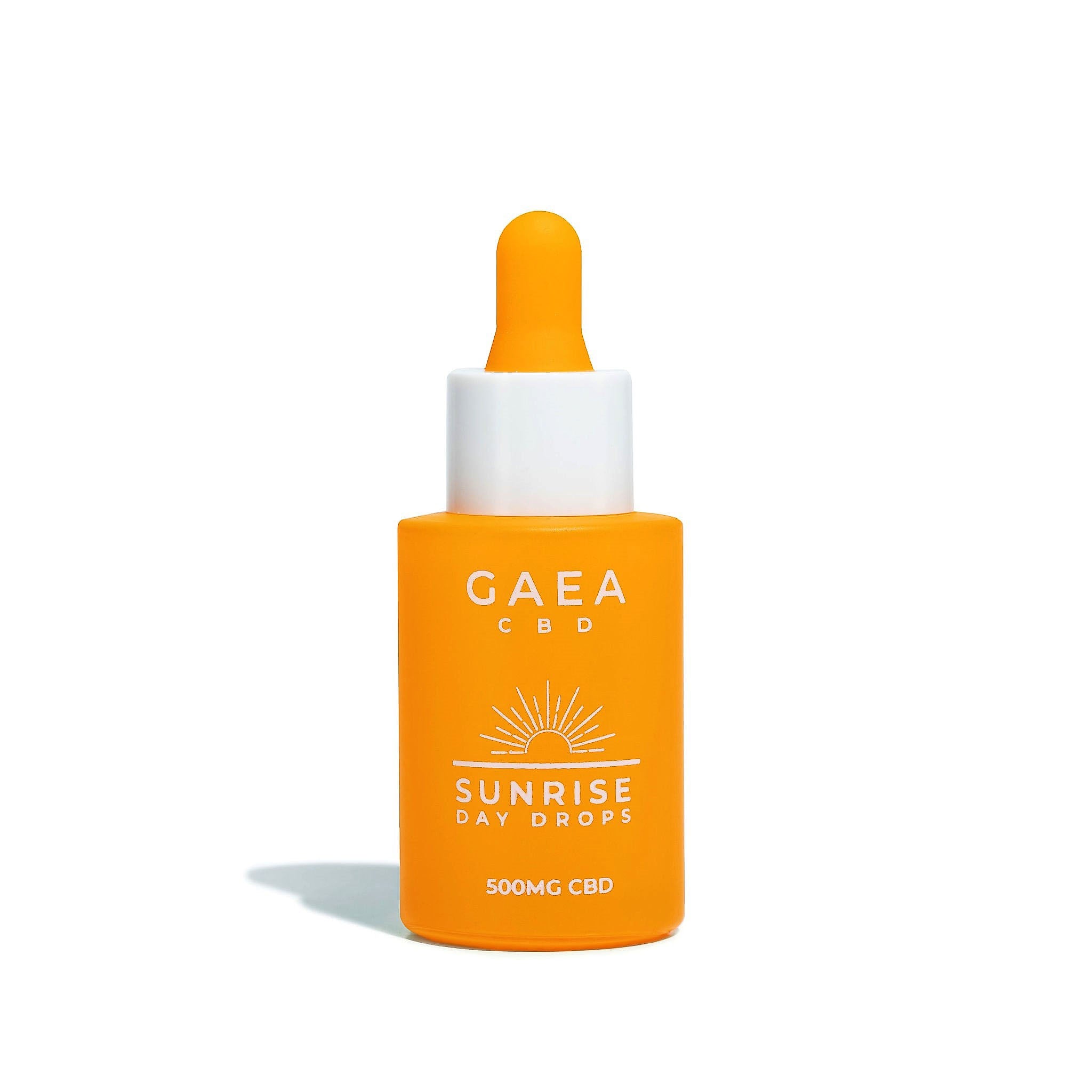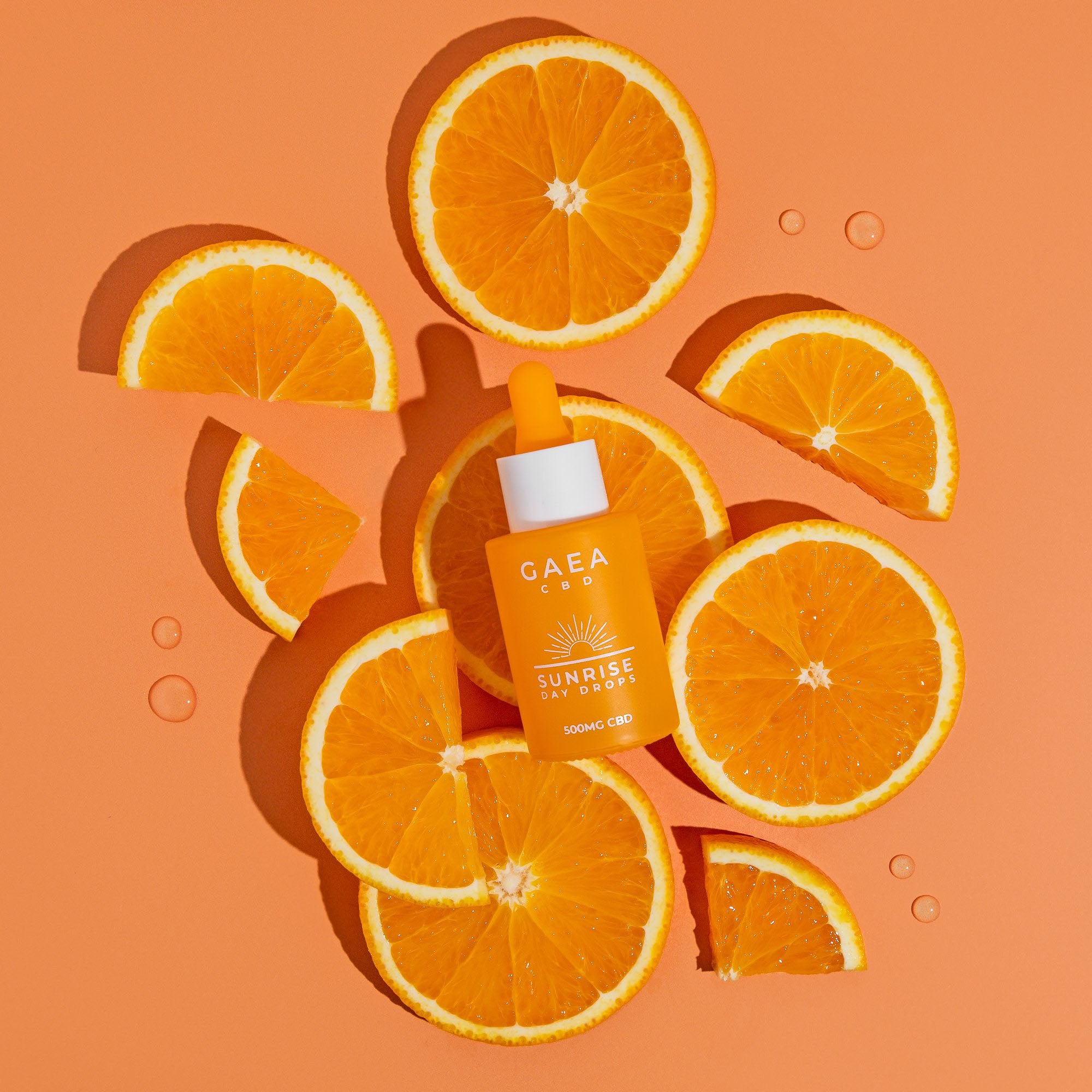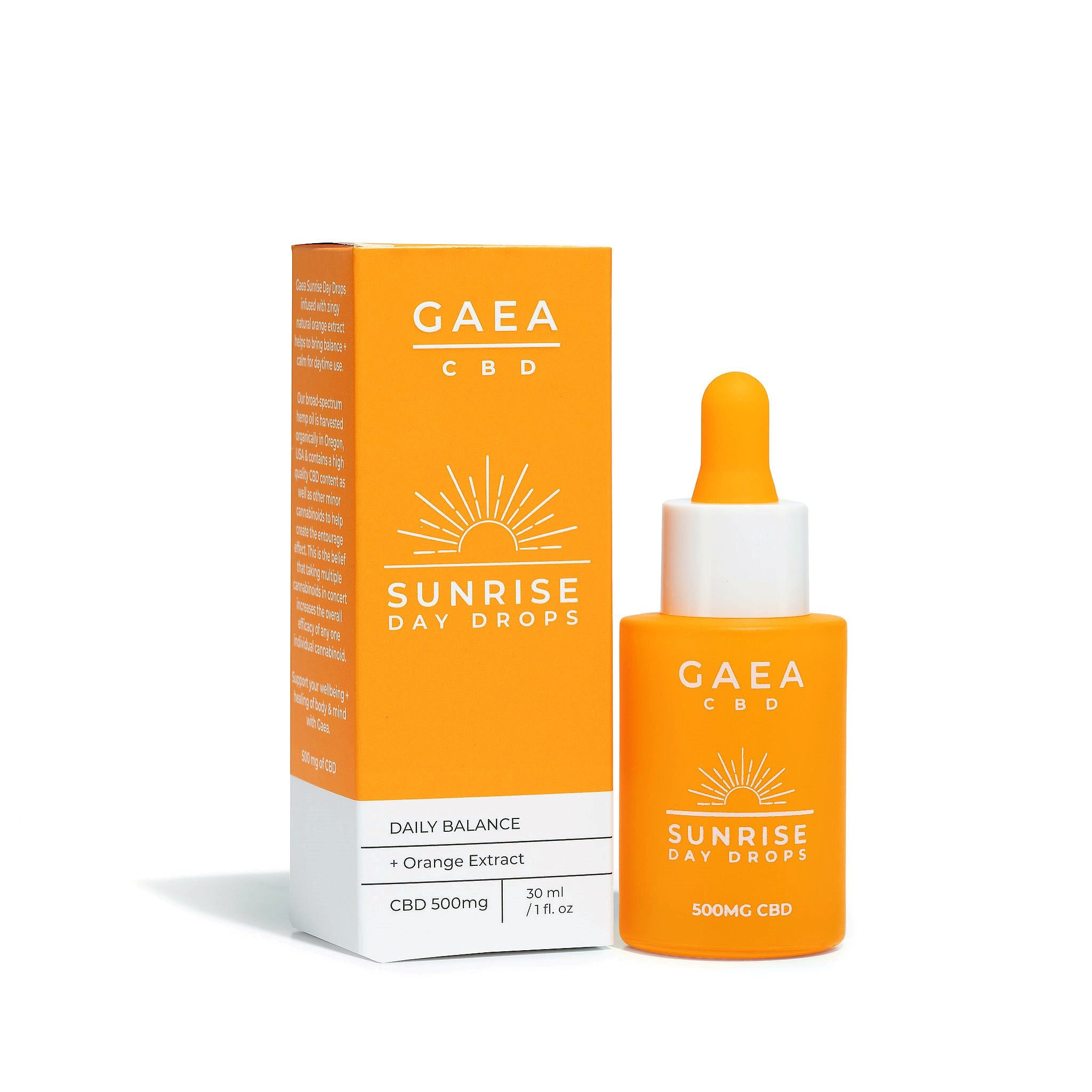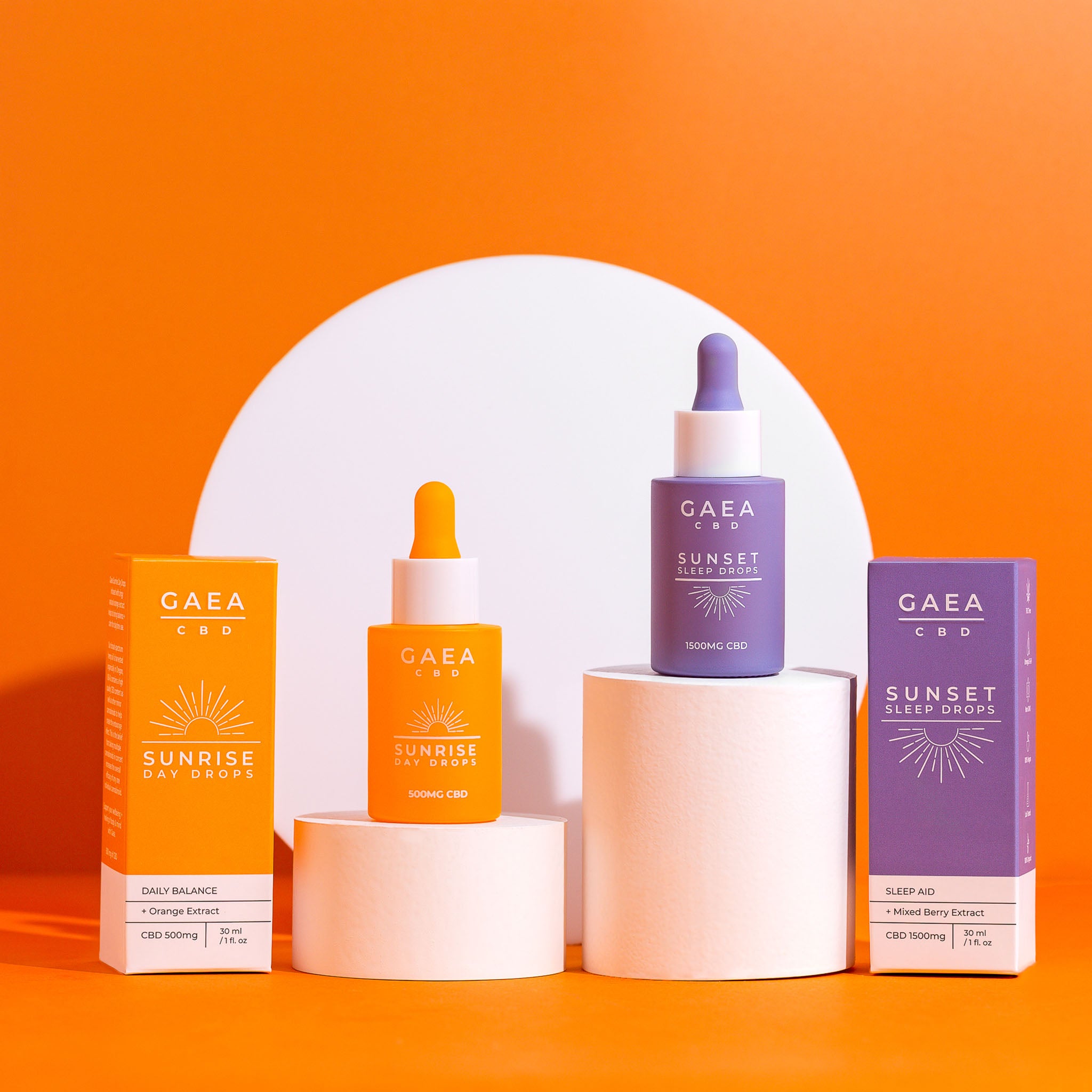 Gaea Sunrise Daily Balance Tincture - 500mg CBD (30ml)
Description


Why Gaea?
Our Ingredients

Dosage




Gaea Sunrise Day Drops infused with zingy natural orange extract helps to bring balance + calm for daytime use.
Our broad-spectrum hemp oil is harvested organically in Oregon, USA & contains a high-quality hemp content as well as other minor compounds to help create the entourage effect. This is the belief that taking multiple hemp cannabinoids in concert increases the overall efficacy of only taking one alone.
CBD Sunrise drops interact with our bodies endocannabinoid system. 
This is a network of neurotransmitters which our cells use to communicate with each other and helps to bring balance/ homeostasis to a multitude of bodily functions from digestion to mood, pain modulation and hormone balance.
Support your wellbeing + healing of body + mind with Gaea.
Sunrise drops are FSA Approved 
500 mg of whole plant CBD extract. We do not use isolate, only whole plant healing
About our oils

Broad Spectrum Premium CBD Oil (CBD, CBG, CBC)
No isolate


0% THC, CBN and THCV (won't affect a drug test)

100% Cannabis Sativa L. with Coconut oil

Completely Vegan (suitable for vegetarians)
Non-GMO
Amazing fruity taste (taste is more palatable than natural oil)
All natural flavourings

Third-party Lab Testing by accredited lab in the UK

Grown organically In The USA

Bottled in the UK 
We are FSA approved and follow all government guidelines on the safe supply of CBD including levels of THC, source of the oil & extraction protocols.

MCT oil ( Coconut Oil), Extract of Cannabis sativa L, Natural Orange Extract
We recommend a starting dose of half a dropper, and increasing as per need and body weight. Use the chart below to find your ideal dosage then use the pipette to measure the amount of CBD in each ml that you require. 

Each Bottle contains 500mg of CBD in 30ml of MCT oil

Each dropper is 1ml = 16.5mg of CBD

| | | | |
| --- | --- | --- | --- |
|  Body Weight | Starting Dose | Medium Dose  | High Dose |
| 45kg | 10-20mg | 21-49mg | 50-60mg |
| 50kg | 11-22mg | 23-54mg | 55-66mg |
| 55kg | 12-24mg | 25-59mg | 60-72mg |
| 60kg | 13-26mg | 27-64mg | 64-78mg |
| 64kg | 14-28mg | 29-69mg | 70-84mg |
| 68kg | 15-30mg | 31-74mg | 75-90mg |
| 72kg | 16-32mg | 33-79mg | 80-96mg |
| 77kg | 17-34mg | 35-84mg | 85-102mg |
| 82kg | 18-36mg | 37-89mg | 90-108mg |
| 86kg | 19-38mg | 39-94mg | 95-114mg |
Gaea Sunrise Daily Balance Tincture - 500mg CBD (30ml)
FAQ
Why choose GAEA?
We are a woman owned producer making small batches of our oils by hand, ensuring that we only use the highest quality sustainable content. Using only broad spectrum premium quality CBD oil, our oil contains all the benefits of the whole plant without the THC content. Our products are vegan, kind to animals and the environment. Every batch is lab tested by a reputable UK laboratory.
What is CBD?
CBD (or cannabidiol) is the substance found in the leaves and stalks of the 'cannabis Sativa' hemp plant. It is one of 113 known cannabinoids ( including THC), all of which have different applications in both health and beauty. CBD has been proven to have stronger antioxidant properties than both Vitamin C and Vitamin E4, making it an effective anti-ageing treatment. It is also a powerful anti-inflammatory with the ability to soothe acne-prone skin. Taken orally, CBD can help everything from anxiety, to sleep disorders and pain modulation.


How does CBD work?
CBD directly interacts with " The Human Endocannabinoid system " CBD fits like a lock and key into existing human receptor cells. These receptors are part of the endo-cannabinoid system which impact physiological processes affecting pain modulation, memory and appetite plus anti-inflammatory effects and other immune system responses. The endocannabinoid system comprises of two types of receptors, CB1 and CB2, which serves distinct functions in human health and well-being.


Quality Assured
All of the our oils have undergone rigorous testing in a laboratory to determine their content of CBD, THC, pesticides, residual solvents, bacteria and any other nasties that may be present within the oil. Gaea products are made from broad spectrum CBD, which is extracted from the whole plant, with THC removed. The whole plants contains hundreds of terpenes, cannabinoids, antioxidants, vitamins, and nutrients so all the benefits can be harnessed.