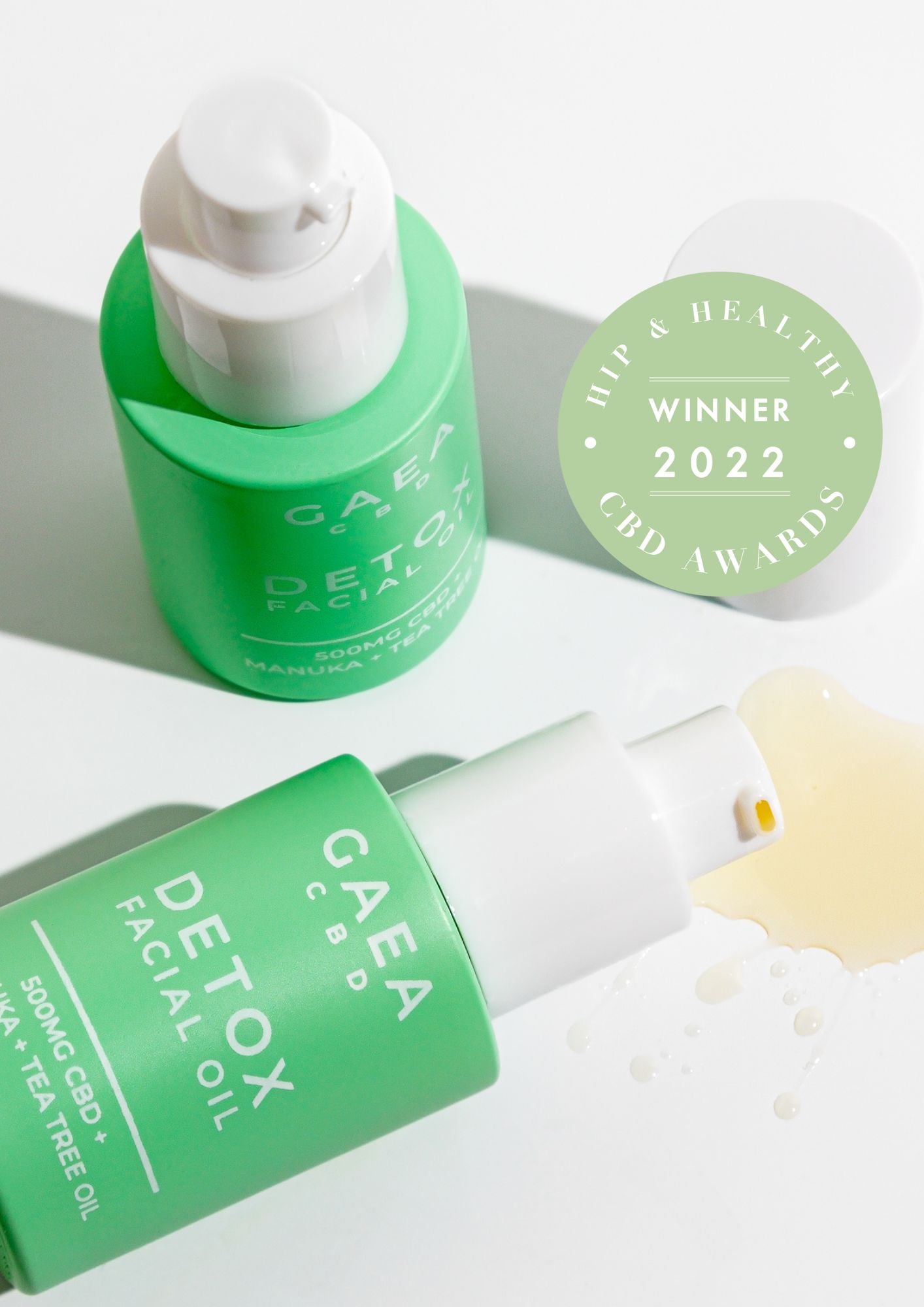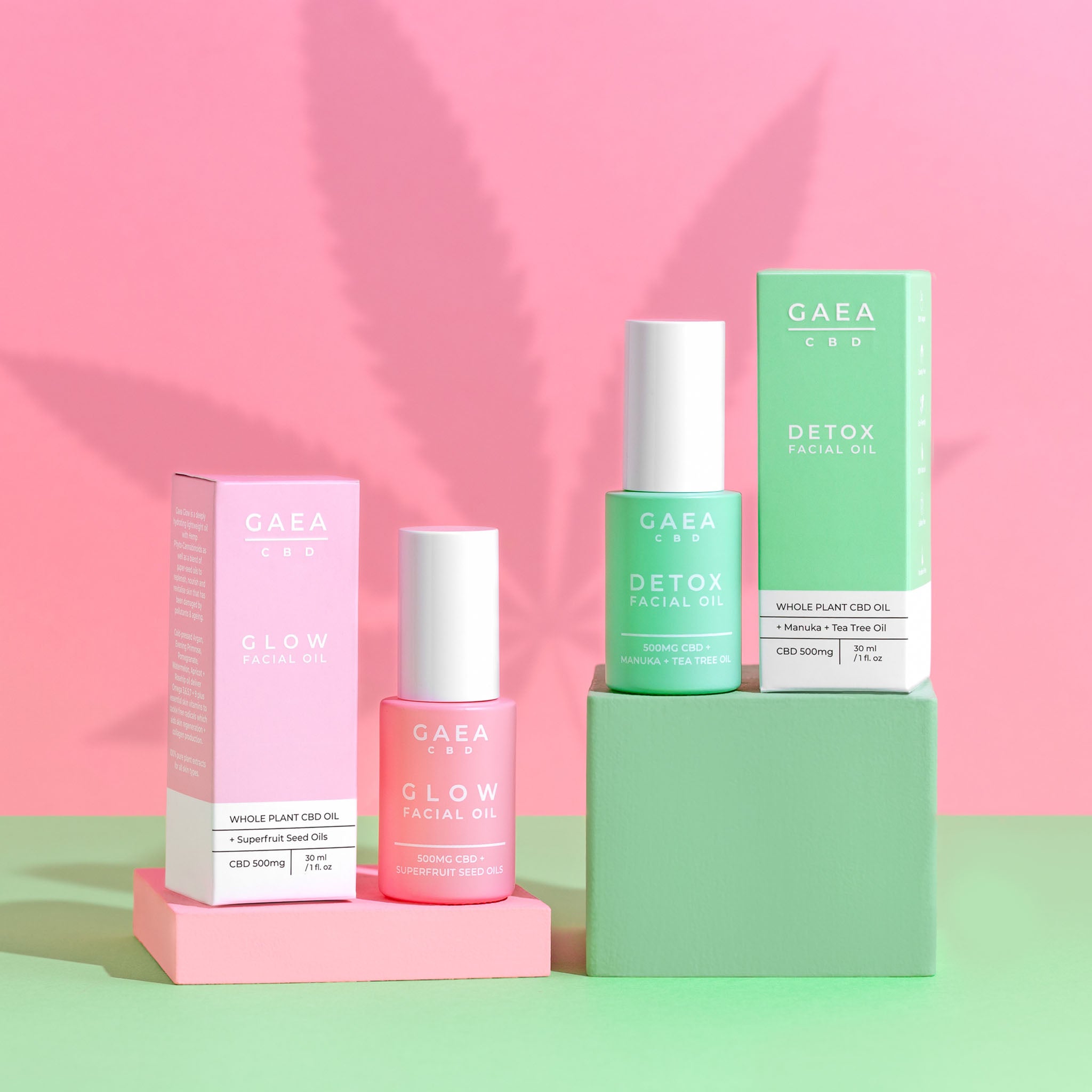 Gaea Detox Facial Oil - 500 mg CBD + Manuka + TeaTree (30ml)
Description
Ingredients
Key Ingredients

More Information
Gaea Detox combines the clarifying power of Hemp Phyto-Cannabinoids with Australian Tea Tree and Manuka Active Concentrate which have been shown to kill bacteria associated with acne outbreaks.
Skin is detoxed with this lightweight blend of non-clogging oil rich in linoleic acid; a vital component to balance sebum in acne prone skin.
Cold-pressed Cucumber, Grapeseed, Black Cumin + Thistle seed oil deliver powerful omegas + vitamins to nourish and heal the skin.
100% pure plant extracts for oily to acne prone skin.
Contains 500mg of Broad Spectrum CBD oil, which contains CBD as well as other minor cannabinoids. The CBD is lab tested and certified and each bottle is batch numbered for safety.
Our clean formulations are batch-crafted without any harsh chemicals that are found in most over the counter cosmetic products
Natural Ingredients + 99% Organically Derived
100% natural fragrance 
Vegan + Gluten Free
Free from parabens, silicones + toxic chemicals 
Manufactured in the UK
Ethically sourced ingredients
Sustainable packaging 
Suitable for all skin types
Cannabis Sativa (CBD Oil), Vitis Vinifera (Grape) seed oil, Carthamus Tinctorius (Safflower) seed oil, Nigella Sativa (Black Cumin) seed oil, Cucumis Sativus (Cucumber) seed oil, Cannabidiol, Leptospermum Scoparium (Manuka Active Concentrate) leaf oil, Melaleuca Alternifolia (Tea Tree) leaf oil, Juniperus Communis Fruit Oil (Juniper Berry) Tocopherol (Vitamin E), Helianthus Annuus (Sunflower) seed oil. Contains traces of Limonene & Linalool. 
Cannabis Sativa (CBD Oil) 
With a unique ability to help the body produce less sebum, this oil helps to keep the skin's pores clear, soothe irritation, reduce inflammation and improve the overall texture of the skin. CBD is a potent antioxidant fighter, helping to counter-act the signs of ageing caused by free radicals.
Grape seed Oil (Vitis Vinifera)
Cold pressed from the seeds of the grape, this oil is high in linoleic acid known for its ability to balance sebum on acne prone skins. With a Comedogenic scale rating of 1, Grapeseed oil has a unique ability to unclog pores on the skin. An imbalance of Oleic and linoleic causes thick sebum on the skin which clogs pores and provides the perfect environment for bacteria to thrive and cause acne. Rich in Vitamins C, D & E.
Carthamus Tinctorius (Safflower) seed oil
Cold pressed from the seeds of the Thistle plant, this oil is an excellent source of essential fatty acids (omega 3 and 6) which makes up 80% of the oil content. Skin-friendly omega 6 is excellent for oily skin, large pores and all skin conditions. With a Comedogenic scale, rating of zero, this oil, is light, easily absorbed and helps to balance sebum.  
Nigella Sativa (Black Cumin) seed oil

Black cumin contains an incredible 100 vitamins and minerals essential for healthy skin and an excellent antioxidant ability which promotes healing of acne prone skin. Scars caused by acne are infused with vitamins and minerals to aid repair and healing.
Cucumis Sativus (Cucumber) seed oil
Cucumber seed oil contains a whopping 60-68% Linoleic Acid and a 1 on comedogenic rating. Oils lower down on the scale are non-clogging and will not add to the acne problem. Acne is caused not only by bacteria but by an imbalance in sebum, between the oleic and Linoleic acid, so although it seems counter-intuitive to add more oil to an oily skin, it's about the right type of oil. Cucumber seed oil is non clogging and high in exactly the right kind of oil. It encourages cell regeneration, reduces wrinkles, stretch marks and guards against free radicals.
Leptospermum Scoparium (Manuka Active Concentrate) leaf oil
Our Manuka Active is sourced from the East Cape of the north island of New Zealand and has a unique chemotype with triketone content of around 96%. Triketones are the valuable bioactive compounds within Manuka oil that give it its natural antimicrobial properties. Manuka targets and kills the acne-causing bacteria but also reduces the inflammation of the skin tissues surrounding the pores. Triketones have been shown to be highly effective in laboratory tests against 39 separate micro-organisms, and, in particular, against streptococci and staphylococcal bacteria as well pathogenic fungi that affects the skin.
Essential oils
Tea Tree and Juniper berry oils, both excellent for acne-prone skins gives this oil a light, earthy scent.
Gaea Detox Facial Oil is a powerful blend of low comedogenic oils infused with CBD, tea tree, and manuka active concentrate. This unique formula deeply cleanses and detoxifies the skin, helping to remove impurities and unclog pores. It also helps to balance oil production, reduce inflammation, and promote a clear and radiant complexion. With its lightweight and non-greasy texture, this facial oil absorbs quickly into the skin, leaving it feeling nourished and revitalized. Suitable for all skin types, including sensitive skin.


Features:

- Low comedogenic oils: The blend of oils used in this facial oil is specifically chosen for their low comedogenic rating, meaning they are less likely to clog pores and cause breakouts.

- CBD, tea tree, and manuka active concentrate: These powerful ingredients have antibacterial, anti-inflammatory, and antioxidant properties, helping to soothe and heal the skin while promoting a healthy complexion.

- Lightweight and non-greasy: The formula of this facial oil is lightweight and non-greasy, making it suitable for daily use and comfortable to wear under makeup.

- Suitable for all skin types: Whether you have dry, oily, or sensitive skin, this facial oil is suitable for all skin types and can help to improve the overall health and appearance of your skin.

Benefits:
- Deeply cleanses and detoxifies the skin: The combination of low comedogenic oils and active ingredients helps to remove impurities, unclog pores, and detoxify the skin, leaving it clean and refreshed.
- Balances oil production: By regulating sebum production, this facial oil helps to balance oil levels in the skin, reducing excess oiliness and preventing breakouts.

- Reduces inflammation: The anti-inflammatory properties of CBD, tea tree, and manuka active concentrate help to calm and soothe irritated skin, reducing redness and inflammation.
- Promotes a clear and radiant complexion: With regular use, this facial oil can help to improve the overall appearance of the skin, promoting a clear, smooth, and radiant complexion.
Gaea Detox Facial Oil - 500 mg CBD + Manuka + TeaTree (30ml)
FAQ
Why choose GAEA?
We are a woman owned producer making small batches of our oils by hand, ensuring that we only use the highest quality sustainable content. Using only broad spectrum premium quality CBD oil, our oil contains all the benefits of the whole plant without the THC content. Our products are vegan, kind to animals and the environment. Every batch is lab tested by a reputable UK laboratory.
What is CBD?
CBD (or cannabidiol) is the substance found in the leaves and stalks of the 'cannabis Sativa' hemp plant. It is one of 113 known cannabinoids ( including THC), all of which have different applications in both health and beauty. CBD has been proven to have stronger antioxidant properties than both Vitamin C and Vitamin E4, making it an effective anti-ageing treatment. It is also a powerful anti-inflammatory with the ability to soothe acne-prone skin. Taken orally, CBD can help everything from anxiety, to sleep disorders and pain modulation.


How does CBD work?
CBD directly interacts with " The Human Endocannabinoid system " CBD fits like a lock and key into existing human receptor cells. These receptors are part of the endo-cannabinoid system which impact physiological processes affecting pain modulation, memory and appetite plus anti-inflammatory effects and other immune system responses. The endocannabinoid system comprises of two types of receptors, CB1 and CB2, which serves distinct functions in human health and well-being.


Quality Assured
All of the our oils have undergone rigorous testing in a laboratory to determine their content of CBD, THC, pesticides, residual solvents, bacteria and any other nasties that may be present within the oil. Gaea products are made from broad spectrum CBD, which is extracted from the whole plant, with THC removed. The whole plants contains hundreds of terpenes, cannabinoids, antioxidants, vitamins, and nutrients so all the benefits can be harnessed.