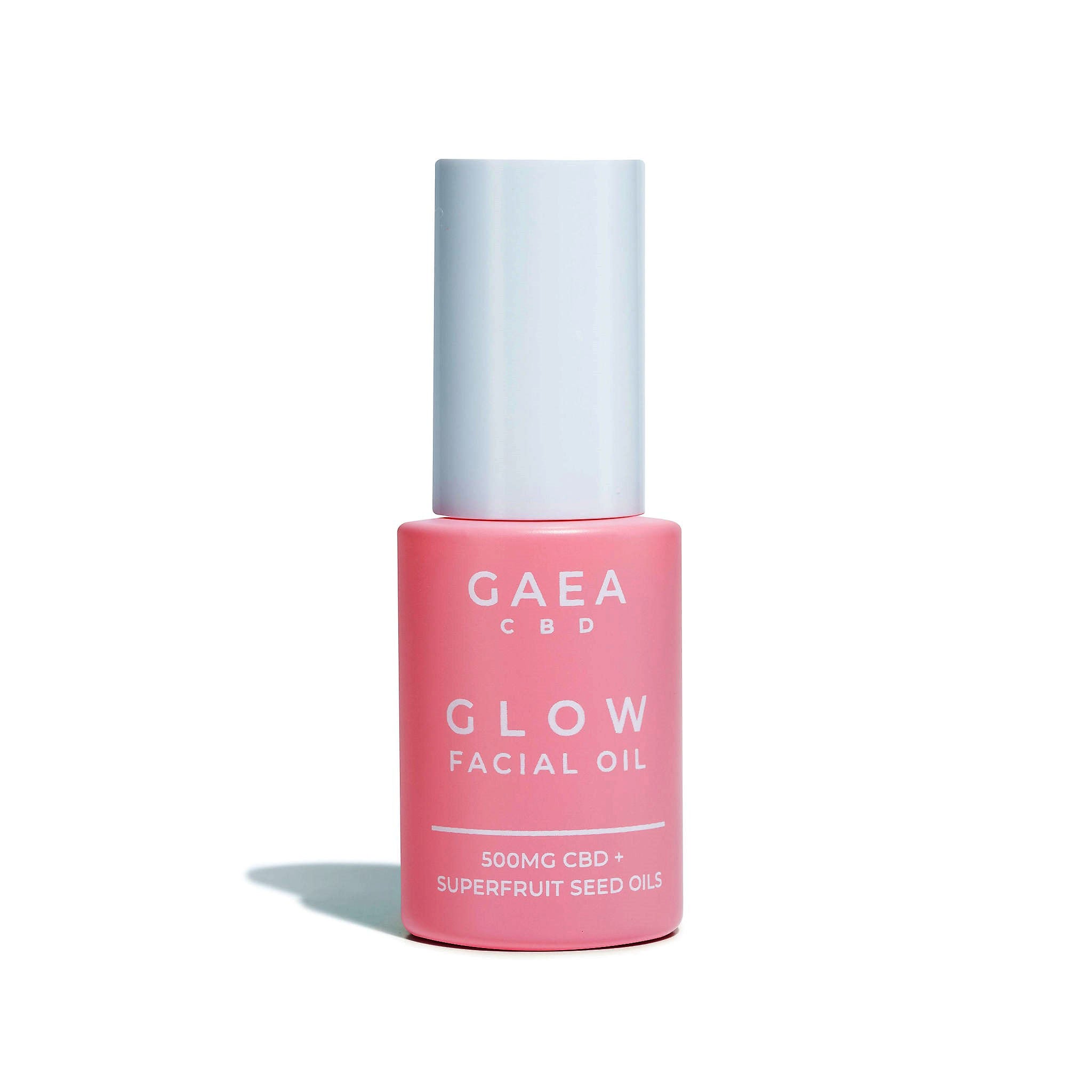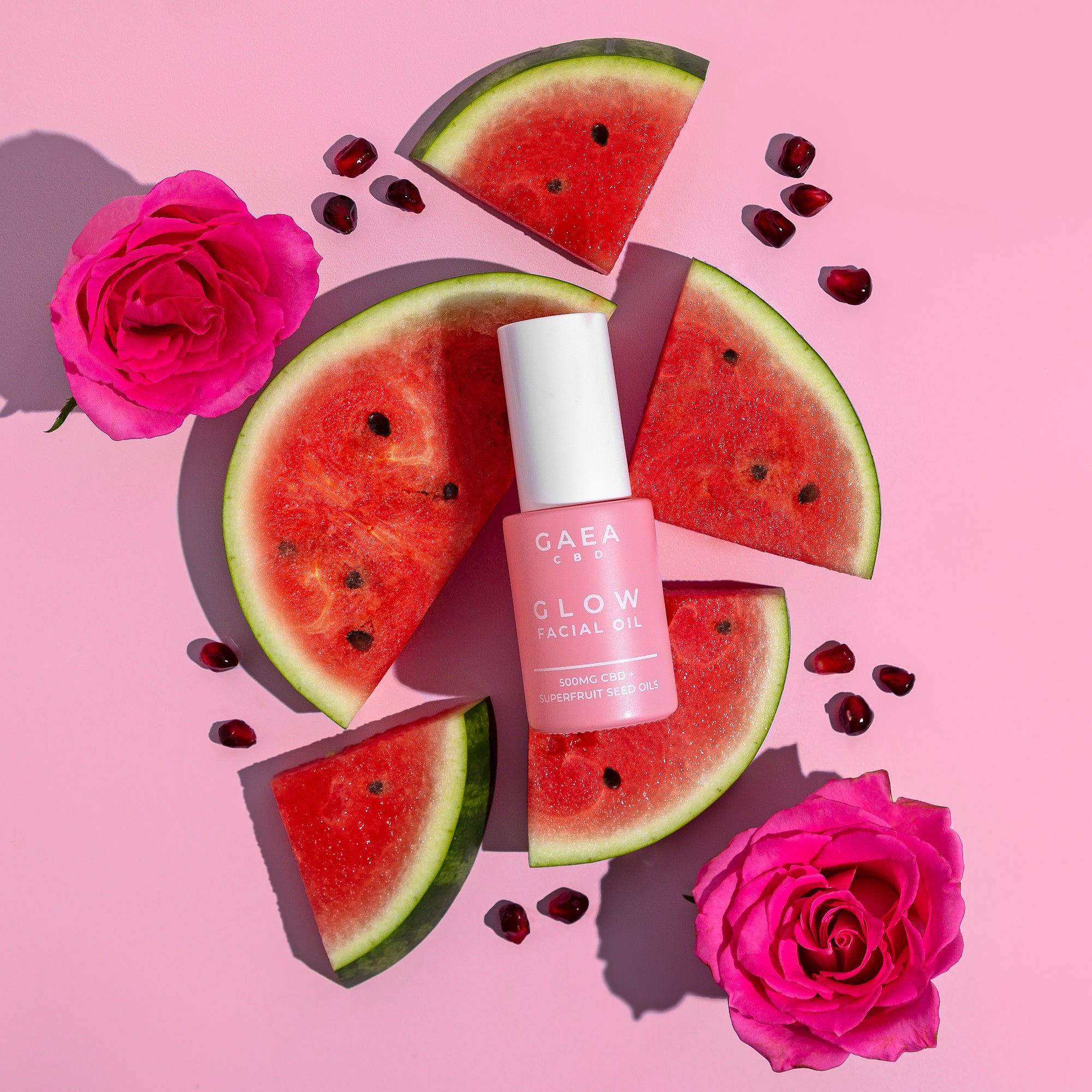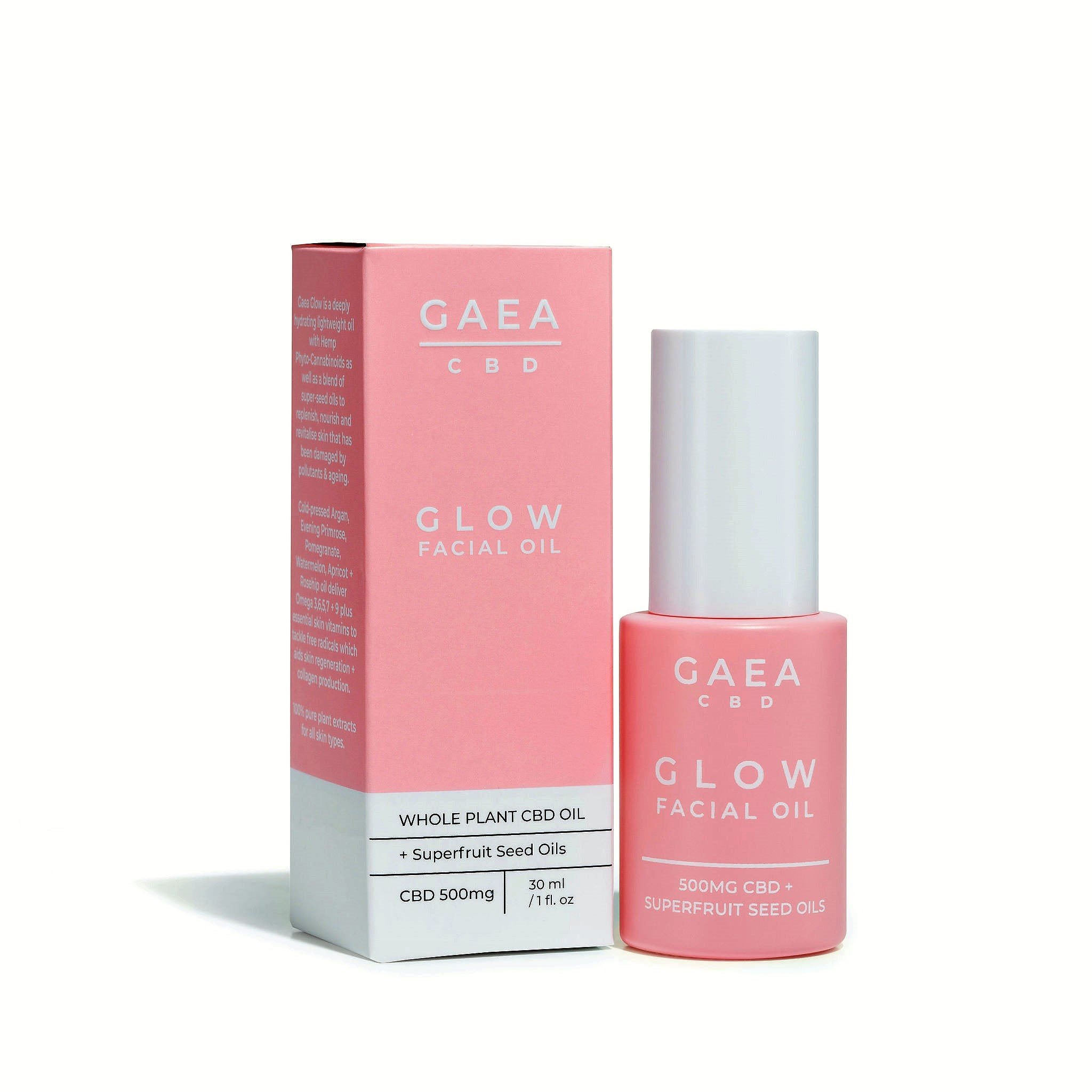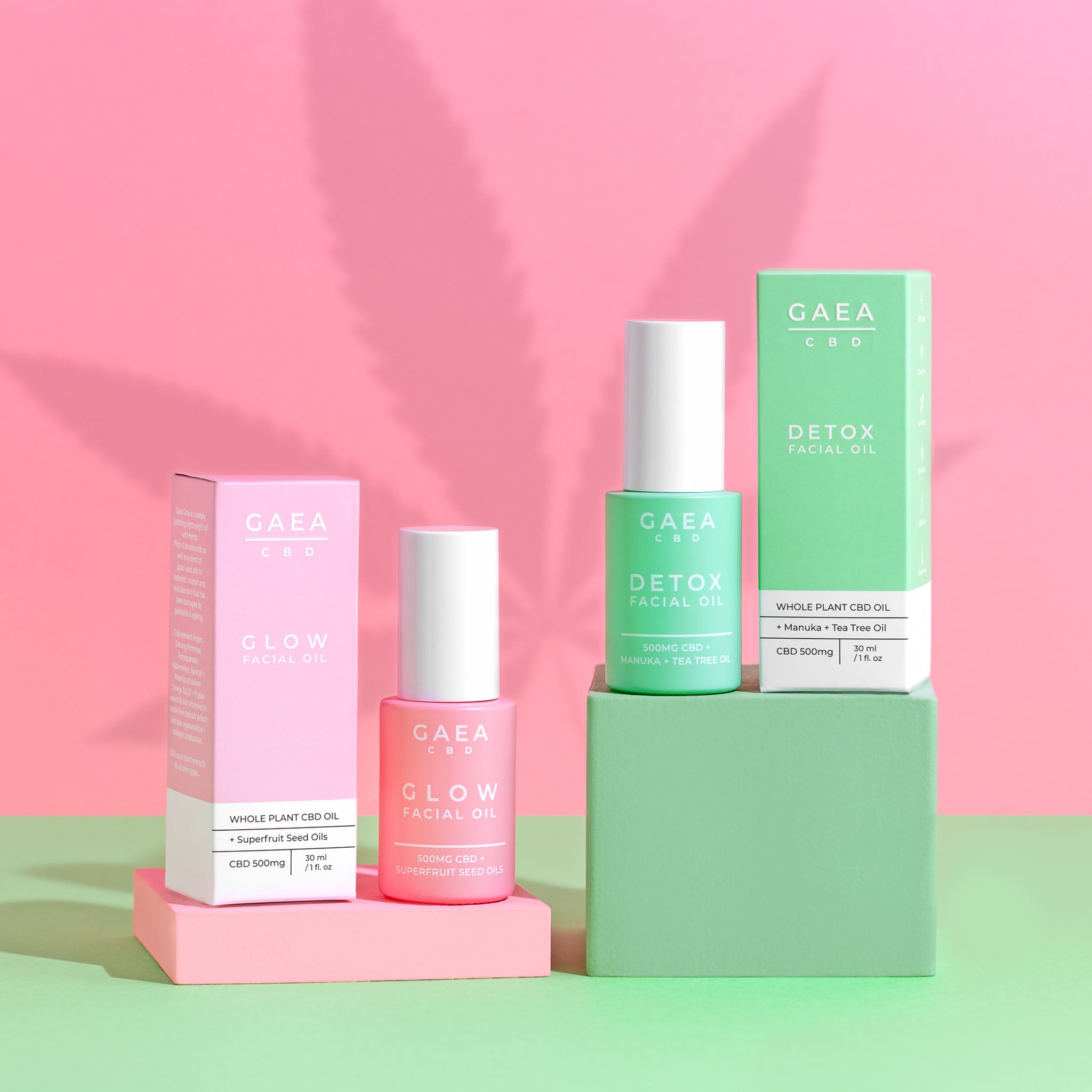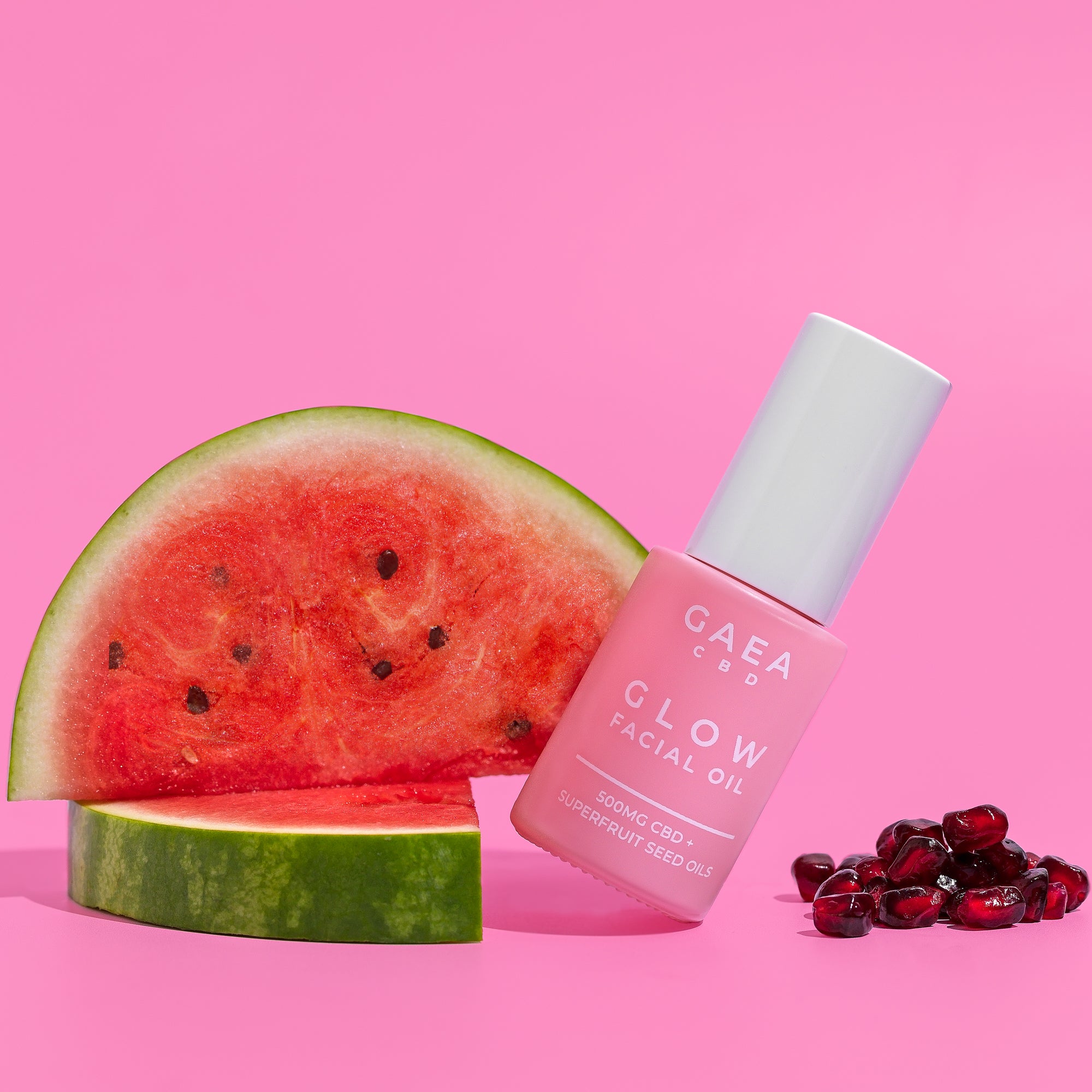 Gaea Glow Facial Oil - 500mg CBD + Superfruit Seed Oils (30ml)
Description


Ingredients


Key Ingredients

More Information


Gaea Glow is a deeply hydrating lightweight oil with Hemp Phyto-Cannabinoids as well as a blend of super-seed oils to replenish, nourish and revitalise skin that has been damaged by pollutants & ageing.
Cold-pressed Argan, Evening Primrose, Pomegranate, Watermelon, Apricot + Rosehip oil deliver Omega 3,6,5,7 + 9 plus essential skin vitamins to tackle free radicals which aids skin regeneration + collagen production.
100% pure plant extracts for all skin types.
Our clean formulations are batch-crafted without any harsh chemicals that are found in most over the counter cosmetic products

Natural Ingredients + 99% Organically Derived
100% natural fragrance 
Vegan + Gluten Free
Free from parabens, silicones + toxic chemicals 
Superseed oils to deliver powerful nutrients to the skin
Manufactured in the UK
Ethically sourced ingredients
Sustainable packaging 
Suitable for all skin types
Cannabis Sativa (CBD Oil), Argania Spinosa (Argan) Kernel Oil, Oenothera Biennis (Evening Primrose) Oil, Punica Granatum (Pomegranate) Seed Oil, Citrullus Vulgaris (Watermelon) Seed Oil, Prunus Armeniaca (Apricot) Kernel Oil, Rosa Canina (Rosehip) Seed Oil, Cannabidiol, Tocopherol (Vitamin E), Pogostemon Cablin(Patchouli) Oil, Boswellia Carterii (Frankincense) Oil, Pelargonium Roseum (Rose Geranium) Leaf Oil, Lavandula Angustifolia (Lavender) Oil, Helianthus Annuus (Sunflower) Seed Oil. Contains traces of Limonene, Citral, Geraniol, Citronellol & Linalool.
Cannabis Sativa (CBD Oil)
With a unique ability to help the body produce less sebum, this oil helps to keep the skin's pores clear, soothe irritation, reduce inflammation and improve the overall texture of the skin. CBD is a potent antioxidant fighter, helping to counteract the signs of ageing caused by free radicals.
Argania Spinosa (Argan) Kernel Oil
Produced from the Moroccan Argan tree (also known as the 'Tree of Life'), this oil is one of the most expensive oils in the world. Revered for its high Vitamin E and 80% fatty acid content, it's excellent for nourishing skin and protecting against premature aging. This oil is also high is s
aponins, which are skin-softening agents that help the skin to retain moisture and maintain the skins hydro-lipid layer thus reducing the appearance of wrinkles. 
Oenothera Biennis (Evening Primrose) Oil
Evening Primrose Seed Oil has anti-inflammatory and anti-oxidant effects and also benefits dark under eye circles and discoloured skin.
Punica Granatum (Pomegranate) Seed Oil
High in polyphenols and Punicic Acid - also known as Omega 5. This rare essential fatty acid is abundant in Pomegranate Seed Oil - the only known botanical source. Omega 5 has strong anti-inflammatory and antioxidant properties. It tackles free radicals so delays skin ageing, making the oil very regenerative and even helps to stimulate collagen production.
Citrullus Vulgaris (Watermelon) Seed Oil
it is a rich source of Beta-carotene, which is not only a powerful antioxidant, its also one of the most beneficial vitamins for healing and repair of skin. It can help to combat premature ageing and nourishes skin without clogging the pores. It helps to balance sebum on the skin, thus revealing a brighter and dewy complexion.
Prunus Armeniaca (Apricot) Kernel Oil
Protecting and rejuvenating properties. Excellent to calm skin prone to irritation, 
eczema and other itchy skin conditions. A
pricot kernel can help to reduce dark circles around the eyes and diminish discoloration of the skin.  It is rich in vitamins A, B1, B2, B6, B17 and E so excellent for skin rejuvenation by mopping up of free radicals
Rosa Canina (Rosehip)

Only vegetable oil that contains natural tretinoin, the acid form of vitamin A. This helps to delay skin ageing, promote collagen production and elastin levels and replenish and rebuild skin tissue. Its also one of the best sources for Omega 3 and 6 believed to be one of the best oils for anti-ageing. Numerous scientific studies have also taken place, which have yielded astounding evidence supporting the use of Rosehip oil
Essential Oils
Our essential oil blend of Rose geranium, Frankincense, Lavender and Patchouli, helps to lift the senses whilst adding essential benefits to the skin.
Apply 1 to 2 pumps onto freshly cleansed face & neck and massage gently. Can be used with a stone roller to maximise benefits. 
Unlock Radiant Skin: How Gaea Glow Facial Oil Can Transform Your Beauty Routine
Are you ready to unlock radiant and glowing skin? Say goodbye to dullness and hello to a transformation in your beauty routine with the power of GAEA Glow Facial Oil. This revolutionary product is designed to nourish and rejuvenate your skin, leaving you with a youthful and luminous complexion. Packed with essential nutrients and antioxidants, Gaea Glow Facial Oil works wonders by deeply hydrating your skin and promoting cell regeneration. Whether you're struggling with dryness, fine lines, or uneven skin tone, this magical elixir has got you covered. The lightweight and non-greasy formula absorbs quickly, delivering instant radiance and long-lasting hydration.
With regular use, you'll notice a visible improvement in the texture and clarity of your skin, as well as a reduction in the appearance of wrinkles and blemishes. Don't settle for average skincare products when you can unlock the secret to truly radiant skin.
Get ready to glow like never before with Gaea Glow Facial Oil.
Understanding the Benefits of Gaea Glow Facial Oil
Gaea Glow Facial Oil offers a wide range of benefits that can transform your beauty routine. One of the key advantages of using this product is its ability to deeply hydrate the skin. The lightweight formula is easily absorbed by the skin, providing instant moisture and nourishment. Whether you have dry, combination, or oily skin, Gaea Glow Facial Oil with CBD can help balance your skin's natural oil production, leaving you with a healthy and radiant complexion.
In addition to hydration, Gaea Glow Facial Oil is also rich in essential nutrients and antioxidants and packed with 500mg of CBD. These powerful ingredients work together to rejuvenate the skin and promote cell regeneration. Antioxidants help protect the skin from environmental damage and reduce the signs of aging, such as fine lines and wrinkles. By incorporating Gaea Glow Facial Oil into your beauty routine, you'll notice a visible improvement in the texture and clarity of your skin.
Another notable benefit of Gaea Glow Facial Oil is its ability to even out skin tone and reduce the appearance of blemishes. The nourishing properties of the oil help diminish dark spots and hyperpigmentation, giving you a more even complexion. Whether you have acne scars, sunspots, or age spots, Gaea Glow Facial Oil can help fade these imperfections, leaving you with a smoother and more youthful-looking skin.
Ingredients to Look for in Glow Facial Oil
When choosing a glow facial oil, it's important to pay attention to the ingredients. Look for oils that are rich in essential fatty acids, such as argan oil, rosehip oil, and the new comer CBD oil. These oils are known for their hydrating and nourishing properties, making them excellent choices for our Gaea glow facial oil.
Another important ingredient to consider is vitamin E. This powerful antioxidant helps protect the skin from free radicals and environmental damage, while also promoting cell regeneration. Vitamin E is known for its ability to improve skin texture and reduce the signs of aging, making it an essential ingredient in glow facial oil.
Additionally, look for oils that contain natural extracts, such as lavender, rose or frankincence . These botanical extracts have soothing and calming properties that can help reduce inflammation and redness, giving you a more even complexion.
How to Incorporate Gaea Glow Facial Oil into Your Beauty Routine
Incorporating glow facial oil into your beauty routine is easy and can make a world of difference in the appearance of your skin. Follow these simple steps to get started.
1. Cleanse your face: Start by cleansing your face with a gentle cleanser to remove any dirt or makeup. Pat your skin dry with a clean towel.
2. Apply toner: After cleansing, apply a toner to help balance your skin's pH levels and prepare it for the glow facial oil. Choose a toner that is alcohol-free and suitable for your skin type.
3. Dispense a few drops of glow facial oil onto your palm: Start with a small amount and gradually increase as needed. Warm the oil between your palms before applying it to your face.
4. Gently massage the oil into your skin: Using upward circular motions, massage the glow facial oil into your skin, focusing on areas that need extra hydration or attention. Take your time to allow the oil to fully absorb.
5. Follow with a moisturizer: If desired, you can follow the glow facial oil with your favourite moisturizer for added hydration. This step is optional and may depend on your skin type and personal preference.
6. Use daily: For best results, incorporate glow facial oil into your daily beauty routine. Apply it in the morning and evening after cleansing and toning your skin.
Real-Life Success Stories of Individuals Who Have Transformed Their Skin with Glow Facial Oil
The transformative power of Gaea glow facial oil is not just a marketing claim - it has been proven by countless individuals who have experienced remarkable results. Here are a few real-life success stories
1. Sarah, 35: Sarah had struggled with dry and dull skin for years. She had tried various moisturizers and serums but hadn't found anything that provided long-lasting hydration. After incorporating glow facial oil into her beauty routine, Sarah noticed a significant improvement in the texture and clarity of her skin. Her complexion became more radiant and youthful-looking, and she finally achieved the healthy glow she had always desired.
2. Mark, 42: Mark had been battling with fine lines and wrinkles for years. He had tried numerous anti-aging products, but none of them had delivered the desired results. When he started using glow facial oil, he noticed a visible reduction in the appearance of his wrinkles. His skin looked smoother and more plump, and he felt more confident and youthful. The glow facial oil had truly transformed his skin and his overall confidence.
3. Emily, 28: Emily had struggled with acne scars and hyperpigmentation for most of her adult life. She had tried various treatments and products, but nothing seemed to fade the dark spots on her face. After using Gaea glow facial oil consistently for a few months, Emily noticed a remarkable improvement in her skin. The dark spots had significantly lightened, and her complexion looked more even and radiant. She finally felt comfortable going makeup-free and embracing her natural skin.
Gaea Glow Facial Oil - 500mg CBD + Superfruit Seed Oils (30ml)
FAQ
Why choose GAEA?
We are a woman owned producer making small batches of our oils by hand, ensuring that we only use the highest quality sustainable content. Using only broad spectrum premium quality CBD oil, our oil contains all the benefits of the whole plant without the THC content. Our products are vegan, kind to animals and the environment. Every batch is lab tested by a reputable UK laboratory.
What is CBD?
CBD (or cannabidiol) is the substance found in the leaves and stalks of the 'cannabis Sativa' hemp plant. It is one of 113 known cannabinoids ( including THC), all of which have different applications in both health and beauty. CBD has been proven to have stronger antioxidant properties than both Vitamin C and Vitamin E4, making it an effective anti-ageing treatment. It is also a powerful anti-inflammatory with the ability to soothe acne-prone skin. Taken orally, CBD can help everything from anxiety, to sleep disorders and pain modulation.


How does CBD work?
CBD directly interacts with " The Human Endocannabinoid system " CBD fits like a lock and key into existing human receptor cells. These receptors are part of the endo-cannabinoid system which impact physiological processes affecting pain modulation, memory and appetite plus anti-inflammatory effects and other immune system responses. The endocannabinoid system comprises of two types of receptors, CB1 and CB2, which serves distinct functions in human health and well-being.


Quality Assured
All of the our oils have undergone rigorous testing in a laboratory to determine their content of CBD, THC, pesticides, residual solvents, bacteria and any other nasties that may be present within the oil. Gaea products are made from broad spectrum CBD, which is extracted from the whole plant, with THC removed. The whole plants contains hundreds of terpenes, cannabinoids, antioxidants, vitamins, and nutrients so all the benefits can be harnessed.